Solutions
The Ecommerce Industry is Evolving Rapidly
What was once a problem of recovering losses from CNP fraud and customer disputes has now turned to creating a frictionless customer experience and increasing acceptance. False declines due to fraud hurt everyone with a stake in the payment transaction – especially cardholders who will either seek out another ecommerce website or turn to another card in their wallet.
Fortunately, Ethoca's solutions – powered by a global network of card issuers and merchants – recovers losses and reduces operational expenses related to customer disputes and the complete fraud spectrum. Genuine fraud? Check. Friendly Fraud and False Chargeback Claims? You bet. The entire gamut of customer service disputes? Absolutely. And what's more, our innovative new solutions will help you where it matters most: creating an exceptional customer journey that – finally – makes ecommerce simply about commerce.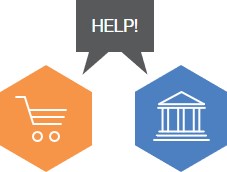 Whatever Your Problem, We Can Help
Fight Fraud
When fraud strikes, recover your losses with ease.
Eliminate Chargebacks
They cost time and money. Let's blow them away.
Increase Acceptance
Don't mistake customers for criminals – it hurts your bottom line!
Recover Revenue
It's your revenue – let's go get it back for you.
Improve Experience
Less friction and frustration, more smiles and sales.
We're Solving the Biggest Problems in Ecommerce
We're replacing the broken chargeback process, sparing merchants, card issuers and customers the pain and high cost that comes with it. What's more, new solutions like Ethoca Consumer Clarity™ are now enabling card issuers and merchants to finally eliminate the false decline problem and focus on what really moves the needle – creating an exceptional customer experience with zero friction.
Isn't it time ecommerce was finally about your customer? At Ethoca, we believe that time has come, and our suite of solutions is making it a reality.