About Us
We're Making Ecommerce Simply About Commerce
Ethoca is an award-winning provider of collaboration-based intelligence and technology solutions that empower businesses around the world to fight fraud, prevent disputes and improve the customer experience. 
Powered by the ever-growing Ethoca Network, our solutions provide rich intelligence throughout the customer purchase journey and close costly communication gaps between all stakeholders in the payments ecosystem. These include thousands of the world's biggest ecommerce brands, the largest banks, service providers and consumers. For the first time, fraud, customer dispute and purchase insights are now available and actionable in real time – delivering significant revenue growth and cost saving opportunities for all. Ethoca was acquired by Mastercard in April 2019.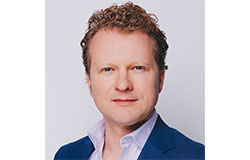 "Ethoca is focused on one primary goal – enabling collaboration between card issuing banks and merchants to share vital intelligence that removes friction from payments and delivers the best possible purchase experience for customers. That means driving fraud and chargebacks out of the ecosystem once and for all, and ensuring no good customer is ever falsely declined. With each new innovation we launch with our trusted customers and partners, we're making ecommerce simply about commerce. I invite you to join our growing network to experience the benefits of collaboration first hand."
Andre Edelbrock, CEO