Ethoca Consumer Clarity™ for Issuers
Cardholders Want MORE! 
Consumers are adopting new virtual habits at a faster pace than ever before. Unfortunately, many are unsatisfied with their current digital banking experience, and 77% report that they're often unable to recognize transactions in their online statements. The result for card issuers? Poor customer experiences and increasing costs caused by unnecessary disputes and chargebacks. Thankfully, there's a solution: Consumer Clarity.
You Can Rely on Ethoca Consumer Clarity™ to...
IMPROVE EXPERIENCE
Reduce purchase confusion through improved transaction clarity
REDUCE COSTS
Stop unnecessary disputes and chargebacks caused by friendly fraud
DIFFERENTIATE BRAND
Provide an innovative set of services and features
INCREASE ACCEPTANCE
Remove 'noise' from fraud rules – decreasing false declines
Put an End to Transaction Confusion
Delivered on-demand through secure and trusted channels, Consumer Clarity provides rich merchant and purchase information to cardholders and financial institution call center and back office staff – including easy-to-recognize merchant names and logos, purchase location details, and itemized digital receipts. This enhanced information helps to significantly reduce unnecessary disputes and costly chargebacks caused by transaction confusion.
How Does it Deflect Disputes?
Here's an example of how Consumer Clarity can alleviate transaction confusion and deflect a dispute: 
The cardholder logs into their digital banking application to view their recent transactions.
Ethoca retrieves enriched transaction details (like merchant logos and clean merchant names) and immediately presents it to the cardholder. 
If the cardholder still doesn't recognize the transaction, and thinks it may be fraud, they can click to view a digital receipt (participating merchants only).
The additional purchase information and merchant details confirms the transaction's legitimacy – preventing an unnecessary dispute.  
Power Digital Transformation
Beyond dispute prevention, Consumer Clarity empowers businesses to optimize their digital offerings. For financial institutions, this means adding new features and services that improve their cardholders' experience while using their digital banking applications and encourages them to spend more time engaged with them.
Deliver a wide range of enriched transaction information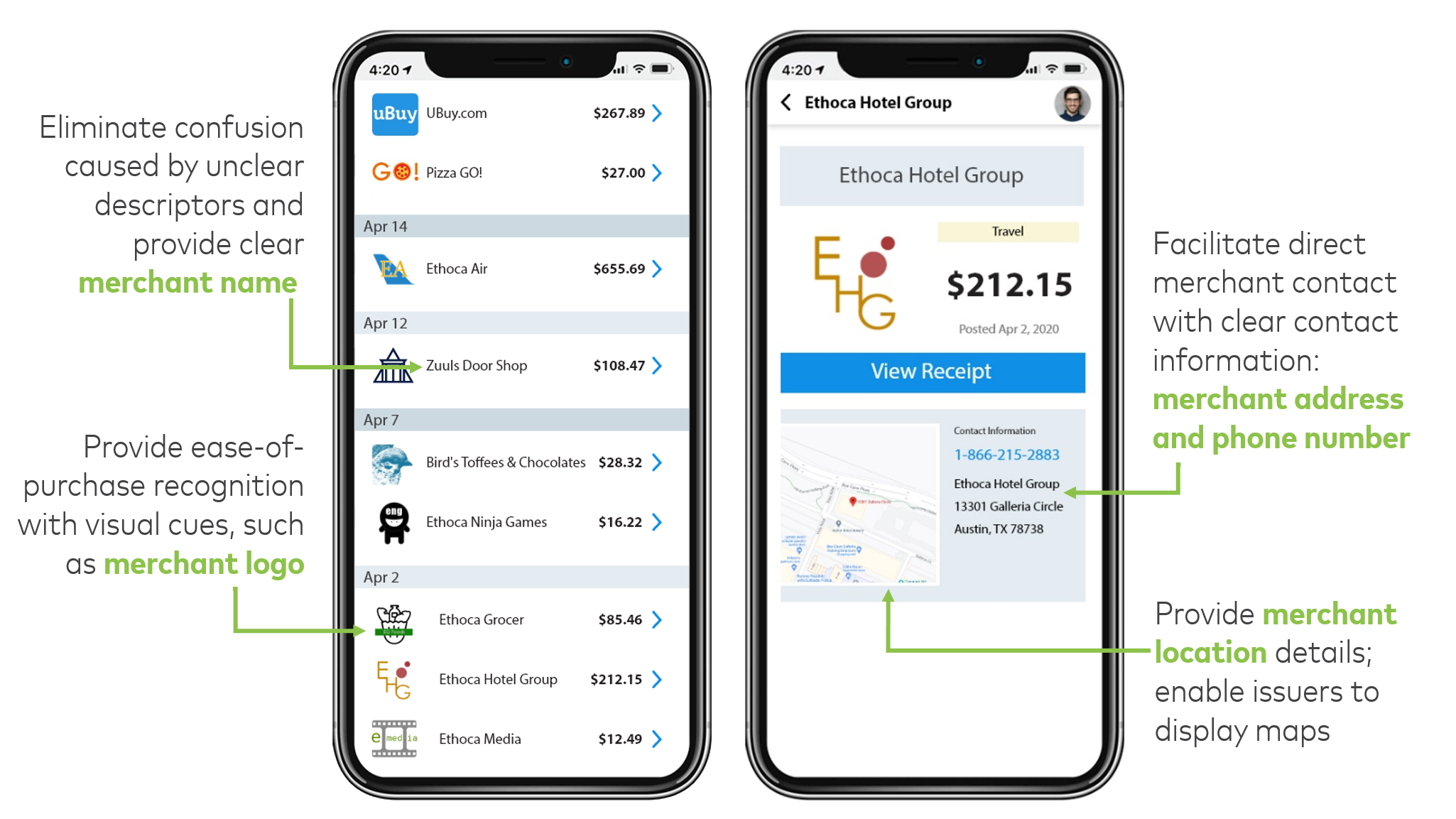 Provide quick and convenient access to digital receipts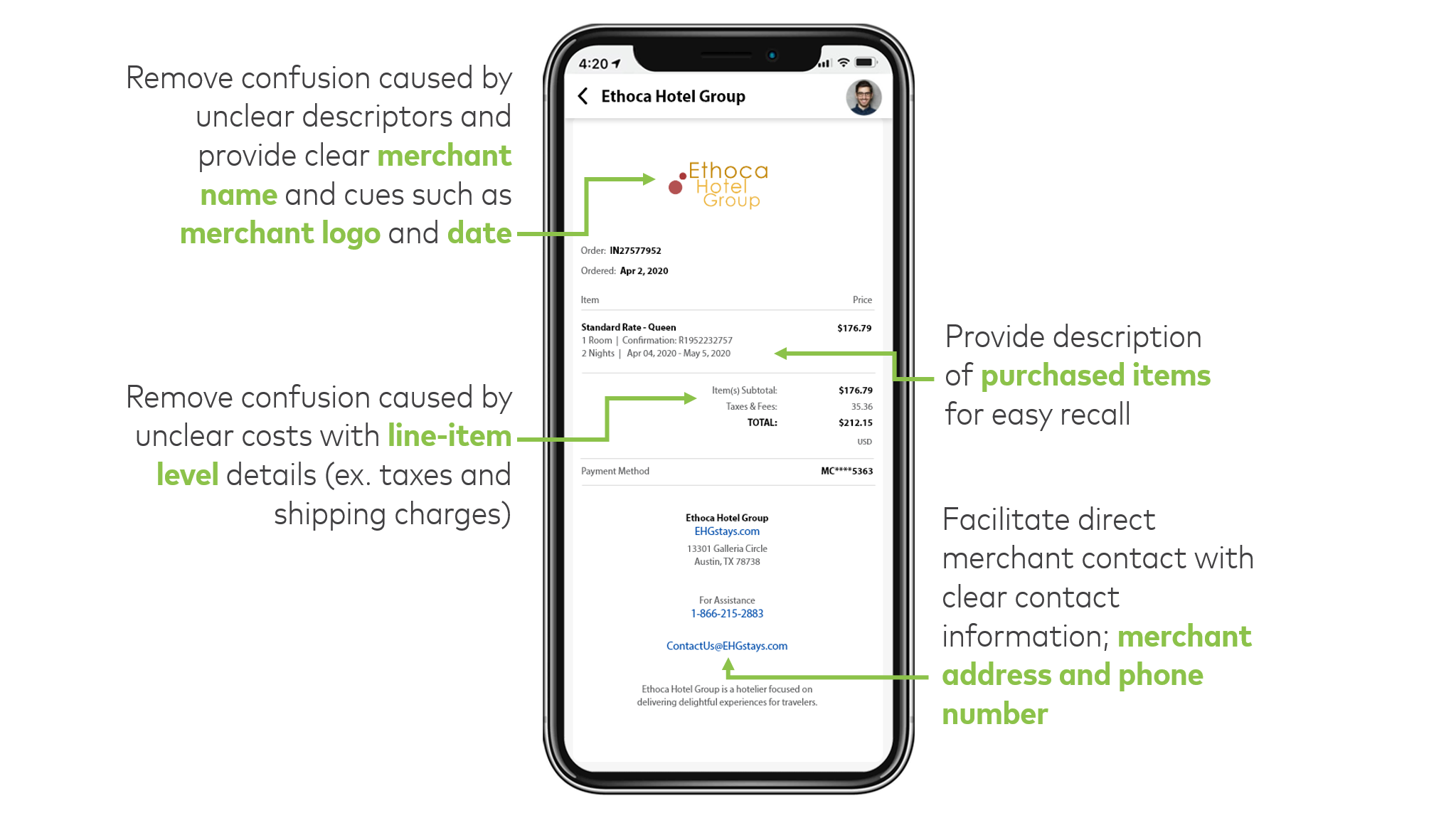 Microsoft Leverages Digital Receipts Through Ethoca
Microsoft customers enjoy simple access to their digital purchase receipts through their banks' mobile applications, enabled with Ethoca's Digital Receipts service. 
Improving the Dispute Experience: Transparency is Power
New research reveals that cardholders have a strong appetite for digital solutions that provide greater insight into their purchases. Download the latest report by Ethoca and Aite Group to learn more about how these digital solutions can improve the customer experience as well as reduce disputes, chargebacks and false claims.