Why Ethoca Consumer Clarity Digital Receipts are more powerful than ever
Wednesday, August 9, 2023

Chargebacks, Fraud, Merchant
Digital receipts aren't a rarity anymore—in fact, they're virtually everywhere. And many consumers now prefer the ease and convenience they provide to help keep track of their purchases. In fact, 88% of consumers surveyed said they would prefer getting a digital receipt—or a digital and paper receipt—over just a paper one. The ability to access those receipts through their digital banking app appeals to the many consumers looking for a one-stop place to keep tabs on their spending and transaction information. 
Beyond their convenience, digital receipts can help merchants and issuers reduce costly disputes and chargebacks due to purchase confusion by giving customers more details about their transaction—by providing a clear merchant name and logo and a description of the product or service purchased. 
Ethoca Consumer ClarityTM is at the forefront—providing thousands of digital receipts with clear purchase details to consumers through their digital banking app every minute. However, preventing purchase confusion is just a piece of the full potential digital receipts can offer. When coupled with the right features, digital receipts can also be used to help merchants and issuers avoid costly service-related disputes, increase repeat sales and create a deeper, more engaging customer experience. 
Introducing a new way to enable direct cardholder-merchant interaction
Ethoca—a leader in collaborative tech that puts transaction information at consumers' fingertips—is excited to introduce new digital receipts functionality that makes it easy for merchants to enable better direct consumer-merchant communications. The new actions available are view order details, request a refund, buy again and write a review, and will help merchants gain more value from providing their receipts while greatly enhancing customer experience and engagement through them. 
How it works: Merchants who provide digital receipts through Consumer Clarity can choose up to three of these actions to be included in their digital receipt. These actions are then hyperlinked directly to the merchant's website using an embedded link to help customers take the action they need.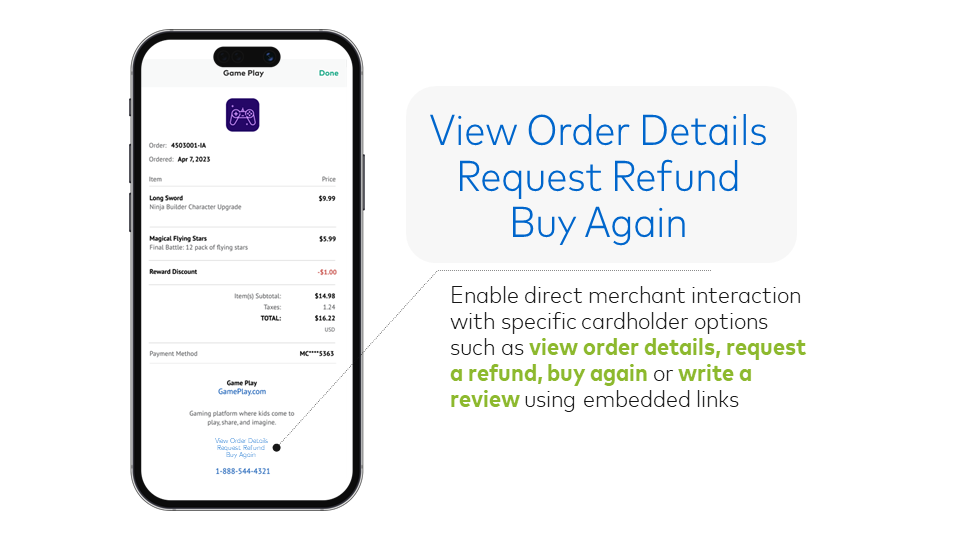 A closer look at the new digital receipt features Ethoca Consumer Clarity offers:
View order details
Digital receipts are great for showing a customer exactly what they bought and how the total was calculated. But what if they need to see even more in-depth information like warranty info, shipping status or product details? Embedding a way for customers to view their order details allows them to be directed to their order history on a merchant's website or app, giving them quick access to every detail they may want to know about their order. 
Takeaway: Making order details available through digital receipts provides access to the purchase information exactly when and where a customer needs it. 
Request a refund
If a customer encounters an issue with their order and wants a refund, enabling them to reach out to the merchant directly to request one offers a more direct path to resolution—and can greatly reduce the odds the customer will use the chargeback process to get a refund instead. Research shows that many chargebacks are the result of customers using the card issuer's dispute process to resolve service-related issues—in fact, about 25% of customers contact the issuer first. 
Takeaway: By positioning themselves as the first point of contact for customers experiencing product or service issues, merchants can build trust with their customers and avoid the high costs of service-related disputes and chargebacks.   
 Buy again
Consumers value convenience, and providing them with the opportunity to quickly and easily buy something again is a fantastic way to offer a better experience while also driving more revenue. This is especially true for commonly purchased items like household products or pet food, and a "buy again" feature offered through a digital receipt makes it easier than ever for customers to reorder.  
Takeaway: Giving consumers the convenience they crave not only bolsters brand loyalty but also can increase incremental sales.    
Write a review
Consumer reviews are more important than ever to a brand's reputation and can help merchants generate new customers and more sales—but collecting reviews can be hard as many consumers don't have an easy way to provide them. In fact, 52% of consumers surveyed said they'd be interested in providing merchant feedback through digital banking apps.  
Offering consumers a way to leave feedback with a link from their digital receipt will help generate more reviews. 
Takeaway: Encouraging customers to leave reviews—and making it easy—raises the odds you'll get positive online reviews that will motivate other people to try out your products or services, driving  sales growth.   
Why digital receipt innovation is so valuable and essential
In today's increasingly competitive marketplace, merchants and issuers need to be focused on adding value to their customer experience and driving engagement in cost-effective ways—and offering more functionality through the digital receipts that consumers already receive and review is a smart way to do that. 
Ethoca Consumer Clarity is at the forefront of enabling deeper and more meaningful connections, and evolving our digital receipts to include direct-to-merchant actions is just one way we're helping make the future of digital interactions more flexible and suitable for businesses of all shapes and sizes. 
To learn more about Ethoca Consumer Clarity's Digital Receipt offering, connect to an expert today.