Ethoca Consumer Clarity includes carbon footprint details to bring consumers more insight into their purchases
Wednesday, October 5, 2022
by Gaurav Mittal, EVP, Ethoca
Elevate the customer experience by delivering carbon footprint data directly to sustainably-minded cardholders through digital banking channels.
Consumers have a new way to gain insight into the environmental impact of their purchases. Carbon footprint data, an element of Mastercard's Carbon Calculator tool, uses transaction information to estimate the carbon footprint of consumers' purchases, and is now available through Ethoca Consumer ClarityTM.
Consumers increasingly want more information available to them in their digital banking channels beyond just transaction details. This includes insight into the environmental impact of their purchases. In fact, 62% of consumers think it's important for companies to do more for the environment.  Given this trend, it's not surprising that three-quarters of the world's largest 250 companies have targets in place to reduce their carbon emissions.  
Consumers are looking for an elevated experience and choose brands that offer this. For financial institutions, this means offering a wider range of purchase insights beyond enhanced transaction details, and carbon footprint information is the first step in making a wide range of consumer engagement possibilities a reality through Consumer Clarity. 
This insight is delivered through Consumer Clarity which makes it easier for financial institutions around the globe to deliver carbon footprint information through their digital banking channels. Consumer Clarity, which uses a version-less API, provides financial institutions with access to new purchase details and features as they become available through a single integration, without the need to connect to new or different APIs. 
How do carbon footprint scores work? 
Carbon footprint allows financial institutions to embed details into their digital banking channels as part of the transaction history. This information enables consumers to receive a snapshot of the carbon emissions generated by their purchases across spending categories. The calculations are powered by Doconomy's independently verified Åland Index and are displayed to consumers in total kilograms of C0₂.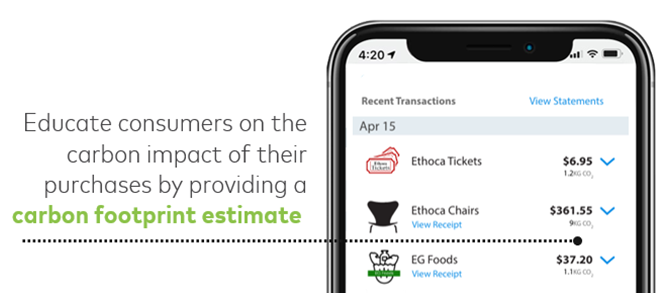 Why it matters
Consumers are increasingly discerning in who they do business with. An important factor that contributes to their choice is a brand's Environmental, Social and Governance (ESG) practices. For financial institutions, helping consumers make more informed purchase decisions can drive brand differentiation while affirming their commitment to sustainability. 
However, sustainability is just one factor critical to exceeding customer expectations. Two-thirds of consumers say they are more likely to prefer brands that offer convenient and easy digital experiences,  and 96% want their transaction information – including digital receipts and merchant logos – provided in a more consolidated manner, such as through an issuer's digital banking application. 
In an increasingly competitive digital landscape, delivering experiences that can weave together convenience and security as well as environmental and social responsibility are key to building a trusted digital future.